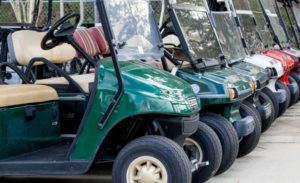 Double D Golf Carts offers well-maintained golf cart rentals in North East Florida. Our carts are ready for your next event. We are happy to serve the residents, businesses, and campers in the Keystone Heights area. Let our team of professionals provide you with the reliable transportation you need for an enjoyable camping trip, wedding, reunion, corporate event, or party.
Gas Golf Carts & Electric Golf Carts for Rent
When you rent from Double D Golf Carts, you can expect high-quality carts. Our goal is to provide you with the top of the line equipment so you can sit back and relax at your event.
When you rent from us, you can expect:
Well-maintained and reliable transportation. Our Carts are professionally serviced on a regular basis to keep them in top shape for your event.
Models that go 12-20mph.
Carts with 2-4 seats.
Lifted golf cart – great for all terrains.
Our team can outfit you with the perfect cart for your event needs. We have helped our customers get the style, functionality, and design they want.
Golf Cart Rental Pricing
1 Day – $150
3 Day – $300
7 Day – $500
+ 7.5% Tax
+ 3.5% CC Fee
*Note: A copy of your driver's license and a credit card required.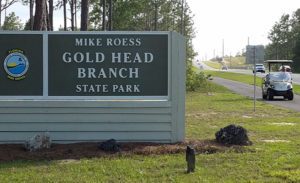 Now offering FREE golf cart delivery and pickup to Gold Head Branch State Park.
Call 352-478-2600 to reserve a golf cart.
A Golf Cart is always ready for rental
Our golf cart rentals are great for all different types of events.
Wedding Golf Cart Rentals – Perfect to shuttle guests from the wedding area to the reception.
Family reunion Golf Cart Rentals – Members who need assistance getting around will greatly benefit from one of our carts.
Parade Golf Cart Rentals – Our models are stylish enough to decorate for the parade.
Social event Golf Cart Rentals – if you are putting on a large social event where you need to haul drinks and snacks, a golf cart will make your life easier.
Exploring parks and trails – Our lifted golf cart rentals make hitting the trails a lot of fun.
Camping Golf Cart Rentals – Free delivery and pickup at the Keystone Heights RV Resort.
Golfing- enjoy a day on the greens.
We will deliver the number of carts you need to the location you specify. Our team will always arrive within the scheduled delivery and pick-up window with the golf cart(s) you have rented.
Contact Us For Golf Cart Rentals
Call Double D Golf Carts today for your next golf cart rental.
352-478-2600
We have a team that will set you up with the best option for your event. If you have any questions about our carts or the rental process, do not hesitate to get in touch with us. We look forward to hearing from you.