The right batteries in your golf cart will help keep your golf cart going strong, so it's important to get high-quality batteries. If you are in need of 8 volt golf cart batteries, the team at Double D Golf Carts is here to help. We offer a wide range of products and services to keep your golf cart running its best.
How to Change Out Your Batteries
Luckily for you, it's fairly simple to replace the batteries of your golf cart. Now, with that being said, there are some brands, makes, and models that may make it difficult to install. In which case, we offer installation services to ensure the job is done correctly.
Here are some of the steps involved in changing out your golf cart batteries yourself:
Pro Tip: Be sure to take a picture of your batteries prior to removing them from your electric golf cart. This will help ensure all the connections are installed correctly.
Step 1 – Each golf cart typically consists of a set of six different batteries. You can find this compartment at the front of the golf cart. Disconnect each battery by disconnecting the negative cable first then the positive cable
Step 2 – Remove the battery brackets and pull out the batteries
Step 3 – Use a solution of baking soda and water to clean the battery cables and clamp. You will then need to replace any frayed or broken cables then clean and dry the battery compartment.
Step 4 – Install the new batteries in the same position as the old batteries while keeping the batteries clear of the cables
Step 5 – On the first battery, reconnect the positive cable to the positive terminal and the negative cable to the negative terminal. Coat the terminals with a thin layer of petroleum jelly or battery terminal anti-corrosion gel. Repeat this process to install all of the new batteries
When it comes to 8-volt golf cart batteries, there are many different brands and products to choose from, each promising different things. We highly recommend doing your due diligence before buying golf cart batteries.
8 Volt Golf Cart Batteries
Our shelves are full of golf cart parts and accessories to ensure we have what you are looking for to keep your golf cart running its best. We offer 8-volt Interstate Batteries. We sell these batteries both in sets of four and individually.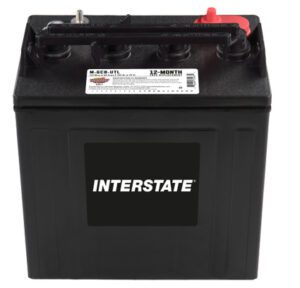 $155ea in a set of 6, $177 individually
*Prices subject to change
$1701ea in a set of 6, $181 individually
*Prices subject to change
As mentioned earlier, we also offer battery installation services to our customers at $65 per golf cart. We also offer a new set of cables at $65 each and individual cables at $12 each. Our batteries come with a limited warranty that applies to failure as a result of defects in materials and workmanship.
We are here to help with your Golf Cart Batteries
No matter your golf cart battery needs, our team here at Double D Golf Carts is ready to help. We offer a wide range of power sport services throughout the North Florida area. Give us a call today at 352-478-2600 or email us at [email protected] to find out more about the golf cart battery services we offer to our customers.