If you are a golf cart owner, chances are your golf cart uses 6-volt golf cart batteries. These high-quality golf cart batteries help keep your golf cart running at 100% at all times. If you are in need of 6-volt batteries in the Keystone Heights, Florida area, the team at Double D Golf Carts is here to help.
How to Change Out Golf Cart Batteries
You may think that battery replacement services are difficult, but fortunately, replacing your battery can be simple depending on the make and model of your golf cart. Before you begin the installation process, you will need a wrench, distilled water, baking soda, post cleaner, and goggles as well as acid-proof gloves.
Here are some of the steps involved in changing out your batteries:
Step 1 – Each golf cart typically consists of a set of six different batteries. You can find this compartment at the front of the golf cart. Disconnect each battery by disconnecting the negative cable first then the positive cable
Step 2 – Remove the battery brackets and pull out the batteries
Step 3 – Use a solution of baking soda and water to clean the battery cables and clamp. You will then need to replace any frayed or broken cables then clean and dry the battery compartment.
Step 4 – Install the new batteries in the same position as the old batteries while keeping the batteries clear of the cables
Step 5 – On the first battery, reconnect the positive cable to the positive terminal and the negative cable to the negative terminal. Coat the terminals with a thin layer of petroleum jelly or battery terminal anti-corrosion gel. Repeat this process to install all of the new batteries
If you are worried that you will not be able to change out the batteries on your own, our team can help with all golf cart battery replacements. We offer golf cart battery installation services to ensure the change-out process is handled correctly. If you are worried about damaging your golf cart, it's best that you let experts handle it.
6-Volt Golf Cart Batteries
A large portion of golf carts use 6-volt golf cart batteries which is why we have several different products from you to choose from. These products include 6-volt Interstate batteries and more. We sell these golf cart batteries either individually or in complete battery sets. Most of our customers chose to replace all of their golf cart batteries at the same time. Here are some of the golf cart batteries we have for sale and their price: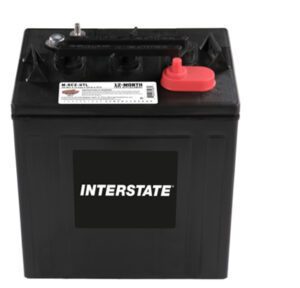 Interstate M-GC2-UTL
$98ea in a set of 6, $118 individually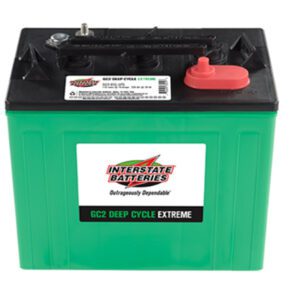 Interstate GC2-ECL
$126ea in a set of 6, $146 individually
With so many different 6-volt batteries on the market, it's highly recommended that you do your due diligence. This will ensure you get the perfect battery for your golf cart. We can help you pick the right batteries for your situation.
We are here to help with your Golf Cart Batteries
No matter your golf cart battery needs, our team here at Double D Golf Carts is here to help. We offer a wide range of services to golf cart owners throughout the Keystone Heights, Florida area. Give us a call today at 352-478-2600 or email us at ddpsports@gmail.com to find out more about the golf cart battery services we offer to our customers.